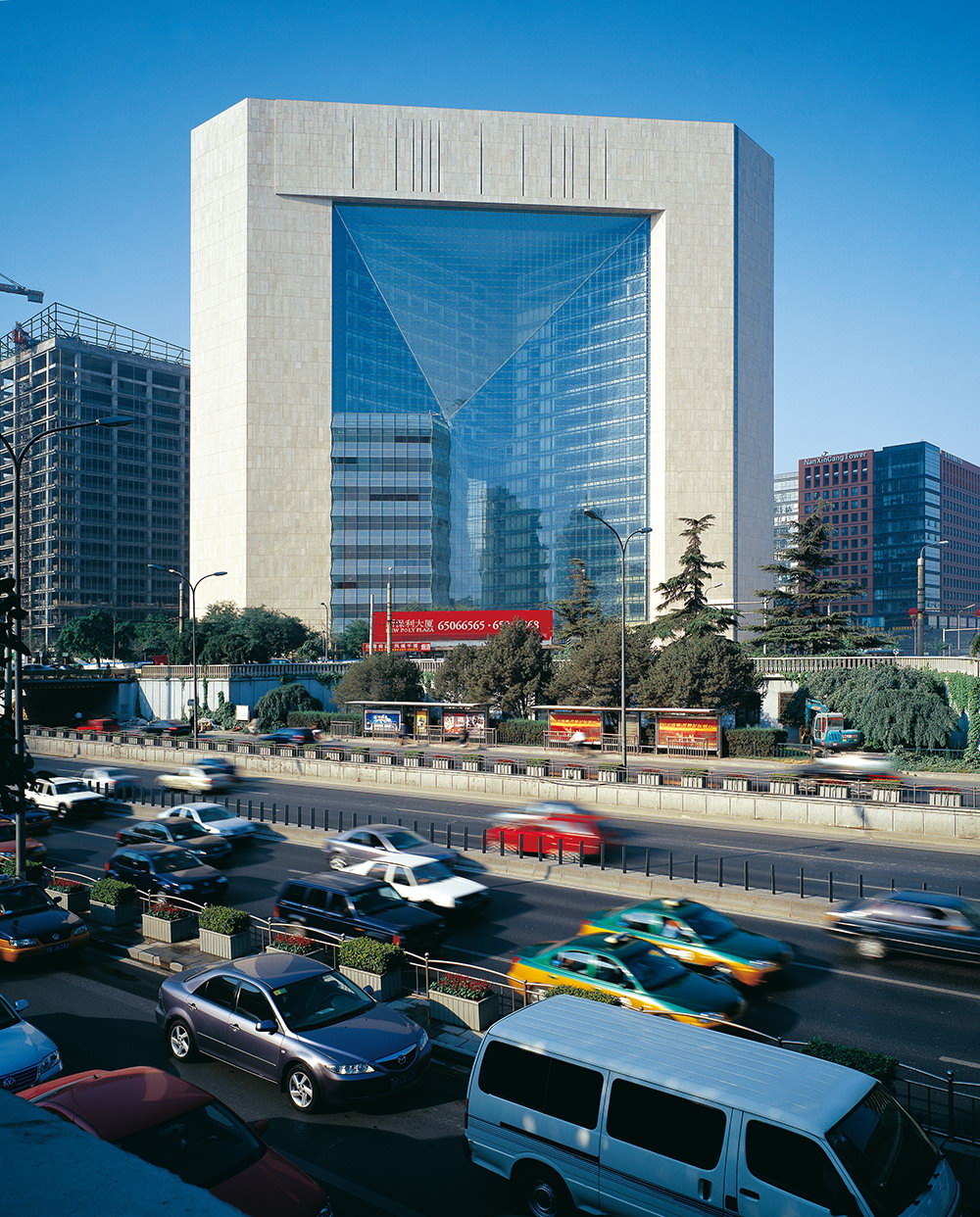 Project: Beijing New Poly Plaza
Location: Dongcheng District, Beijing City
Building Height: 105.2 m (23 floors)
Floor Area: 108,488m2
Area of Curtain Wall: 15,000m2
Curtain Wall Type: flexible cable-network point-fixing curtain wall
Architecture Design Institute:
Skidmore, Owings & Merrill LLP (SOM), USA;
Beijing Special Engineering Design and Research Institute
Architect(s): Brian Lee
Concrete Main Contractor: China State Construction Engrg Corp.
Project Supervisor: Beijing Hongsha Construction Engineering Supervision Co., Ltd.
Materials: stainless steel cable and stainless steel spider fitting from Hong Kong Kin Long Hardware Co.; 6+1.14PVB+6mm toughed laminated glass.
Beijing New Poly Plaza is designed by famous SOM of US. Structural design of the whole building is novel and unique, which possesses 90m of skyscraping central hall, special steel structure suspended building, three dimensional running water sculptures as well as soft cable glazing facade that is praised as "the first place in the world".
The building has a total floor area of 108,488m2, four levels of basement, twenty-three levels above on the superstructure, reaching a height of 105.2m. The architectural elevation of building is a right-angled triangle, main structure is a elevation concrete core tube structure; each concrete tube is connected by steel structure truss. Special steel structure cantilevers about 25m starting from the second story from the main body No.3 core tube. The suspended building has 7 stories in total, the top of which is connected to top of the structure of the main body core tube by 4 pre-stressed main steel cables (super durable low-relaxation steel strand) respectively.
The height and width of soft cable glazing facade on northeast of building is 87.8m and 57.6m, facade area 4,200m2. At the present it is the largest soft cable glazing facade in the world, furthermore, it is also the first concave type soft cable glazing facade in the world. Visually the curtain wall surface consists of three different inwardly concave sloping glass wall surfaces at upper middle position, the inwardly concave center is located on the top of special type suspended building inserted at curtain wall, forming the perfect combination with water wave shaped glass appearance of special type suspended building. Curtain wall of the building mainly includes soft cable glazing facade in south elevation and canopy, soft cable glazing facade in northeast elevation and canopy. The soft cable glazing facade adopts single-layer tightwire mesh as supporting structure of facade. It is today comparatively the advanced facade structure form, with good decorative effect, which adopts tightwire mesh as supporting system, farthest decreasing the decoration proportion occupied by supporting system in curtain wall, and increasing the perspective space, the holding type installation of glass can satisfy the different kinds of displacement requirement for facade, which is convenient for both replacement and installation of glass plates.