Sun-shading is a key factor that affects the thermal performance of curtain wall. A reasonable design can not only bring satisfying sun-shading performance for the curtain wall but also realize a comfortable indoor lighting condition. Generally speaking, sun-shading system includes textile roller shutter, aluminum louver screen system, large-scaled aluminum louver sheet sun-shading system, glass louver sun-shading system, etc.
Textile Roller
Sun-shading shutter made of nylon or chemical fiber is wrapped on the roller. The roller is turned as required to make the shutter unfolded or folded, which can play a role in sun-shading, light-shading or view-shading. The main technical characteristics of textile roller shutter are as follows:
●Various thickness and textile density are available for choice, so that various sun-shading performance and light transmittance can be realized.
●The unfolding and folding of the shutter can be controlled by manual turning of the roller.
●Meanwhile, electrical controlling can be realized by installing motor in the roller.
●Sensors and related controlling system are also available. Such combination can realize the intelligent control and make indoor space get the optimized and reasonable light input.
●According to the practical requirement, the motor of electrical roller shutter can drive two or more sets of rollers at the same time. Through reasonable design of the controlling system, the motors can be divided into several groups and a controlling device can be designated to each group of motors. All motors within the same group will act synchronously.
●Generally speaking, such system is used indoor; if it is to be used outdoor, reliable wind-preventing measures should be provided.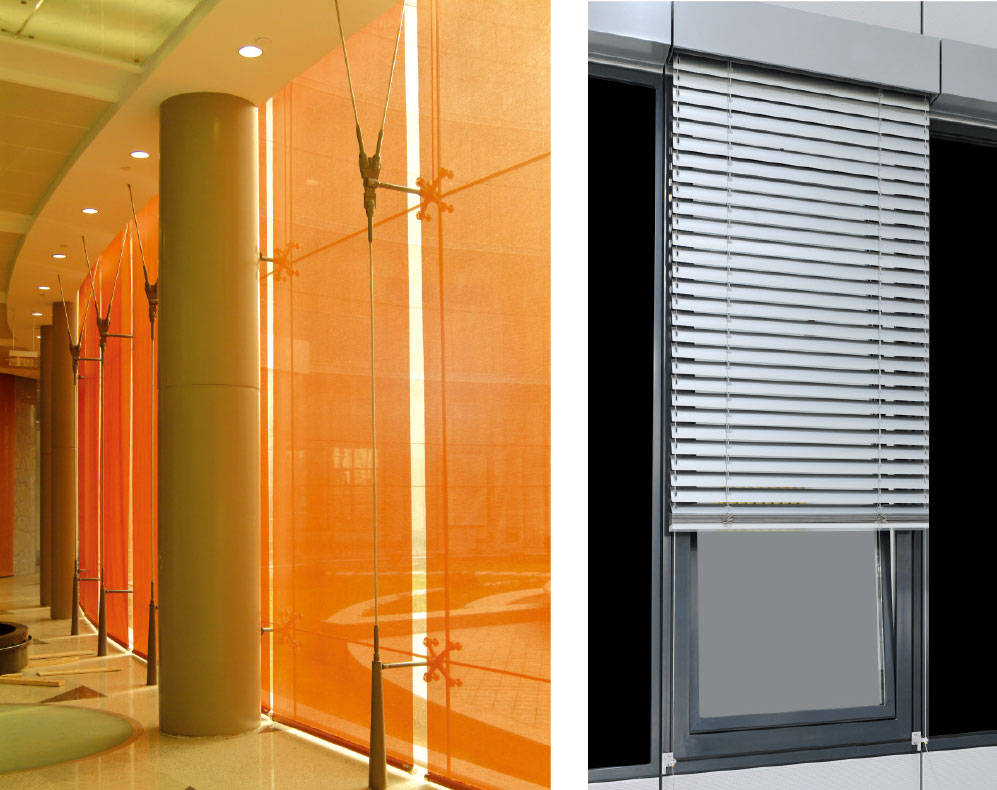 ---
Aluminum Louver Screen Shading System
Narrow-strip-shaped aluminum sheet is stacked at certain spacing and connected by rope to form the whole shading screen. The louver screen system can be unfolded and folded as required and the blade angle can be adjusted to achieve various sun-shading, light-shading & light transmittance performances. The main technical characteristics of aluminum louver screen system are as follows:
●It can be used both indoor and outdoor. If it is used outdoor or middle of double-skinned curtain wall where wind exists, a navigating rope penetrating all the blades should be provided to avoid waving and noises driven by wind.
●Various blade width & thickness are available for choice to meet various requirements.
●The blades can be unfolded or folded according to the lighting requirements. When being 100 percent unfolded, the angle of blade can be also adjusted to realize further control on the light transmittance.
●Various blade finishes are ready for choice to adapt to various environments. Meantime, various colors are also available to match the indoor and outdoor tones and to obtain the excellent decorative effect.
●The blades can be controlled by hand, by motor and intelligence (automatic) etc.
---
Large-scaled Aluminum Louver Sheet Shading System
Aluminum extrusions or metal panels are made into large-scale blades to form a sun-shading panel. Such panels are generally laid out of the curtain wall for the sun-shading of the building. The main technical characteristics of this system are as follows:
●The louver is installed on a fixed supporting rig, which achieves not only sun-shading effect but also a unique architectural effect.
●The sun-shading louver can be laid horizontally or vertically. The width of sun-shading panel can be as large as 800mm, even larger.
●This system can be both fixed and operable. In order to obtain the optimized lighting condition, the angle of blade can be adjusted as required.
●For the operable louver, multiple controlling modes (by hand, motor and intelligence (automatic)) are available.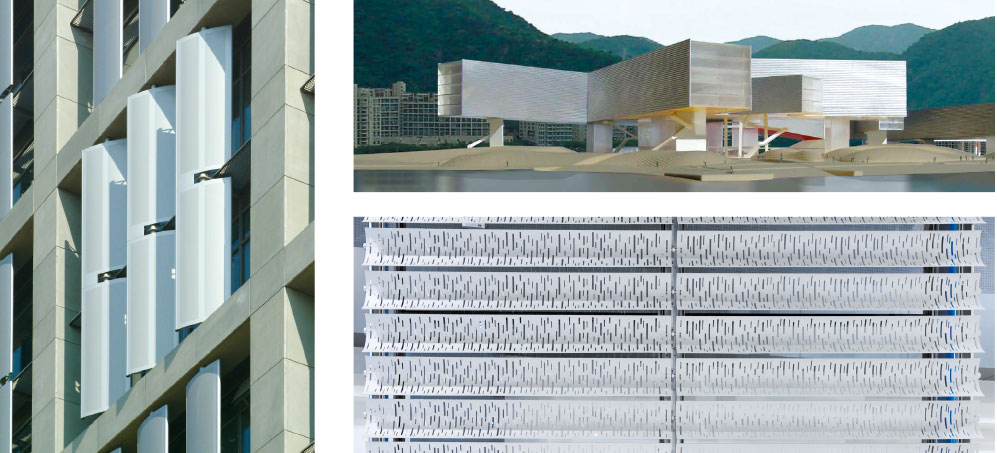 ---
Glass Louver Shading System
Strip glass of high reflectance will be used as blade. Multiple of such blades are laid out of the curtain wall to form a glass louver sun-shading system. The main technical characteristics are as follows:
●In most cases, the blades are laid horizontally and fixed on the cantilevered supporting rig of the curtain wall. The louver can be made both fixed and operable. The operable louver can be controlled by hand, motor or intelligence (automatic).
●In general, heat-reflectable film glass is used to obtain a better sun-shading effect.
●When there is insufficient lighting indoor, the blade angle will be adjusted to let more light into room; in addition, more light will go into room due to the reflectance of the glass.
●Besides sun-shading, the glass louver can also realize a unique decorative effect. Being viewed from inside, there is certain amount of light into the room, therefore, the feeling of depression caused by non-transparent blades can be avoided.