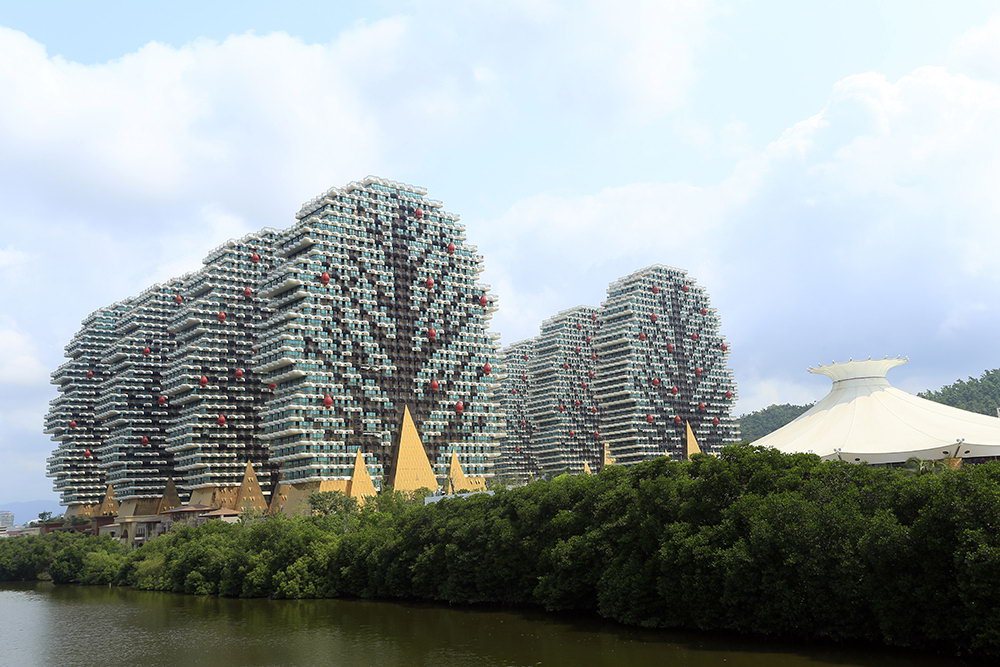 The project is located in the beautiful coastal city of Sanya, comprises a seven-star hotel, a five-star hotel and seven Property Hotels which is a large-scale tourism, hotel industry cluster. There is 21 floors on the ground of Seven-star hotel curtain wall project with a total height of 116m;The platinum five-star hotel with 26 floors on the ground, the total height of 111m; Property Hotel curtain wall with 32 floors on the ground, with a total height of 110 m. The total building area is 500000m2; the total Area of Curtain Wall is 300000m2.
The project is immediately complied with the current trend of low-carbon emission and greens environmental protection, each hotel is designed to the shape of the towering trees. The hotel at the bottom of the triangular shape of the diamond-shaped glass curtain wall symbolizes the roots, the bar glass curtain wall of the main building symbolizes the crown, through using different colors of glass, sketched out the shape of the trunk, it was like the rich fruit that designing red transparent spherical glass the curtain wall between the bar glass curtain wall.
Project: Sanya Beauty Crown Hotel
Location: No.299,Xinfeng Street,Sanya, City, Hainan province.
Building Height:
7-star hotel with 116 m (21 floors), 5-star hotel with 111m (26 floors), The Property Hotel 110 meters (32 floors)
Floor Area: 500,000m2
Area of Curtain Wall: 300,000m2
Curtain Wall type: Tower bar window glass curtain wall system, frame shaped hyperbolic aluminum curtain wall, lantern curtain wall, iron railings, roots parts of the diamond-shaped glass curtain wall system
Architectural Design Institute: Beijing Yanhuang United International Engineering Co., Ltd.
Architect(s): Chen An
Civil Engineering Main Contractor: China Railway Airport Construction Group Co., Ltd.
Project Supervisor: Hainan new century construction consulting Management Ltd.
Materials: Guangdong Xingfa aluminum and Guangdong JMA aluminum PVDF 6063-T6 aluminum alloy profile, XINYI glass 8+12A+8mm LOW-E tempered insulating glass, 8+2.228 PVB +8mm tempered laminated hyperbolic glass,8+1.52PVB+8mm tempered laminated glass, 3mm PVDF aluminum single panel from Guang dong Zhaoqing Xinying decoration materials co.,ltd, construction sealant and seal sealant from Guangzhou Baiyun.